He and his wife are living in Saint John, where he continues to practice and teach Reiki.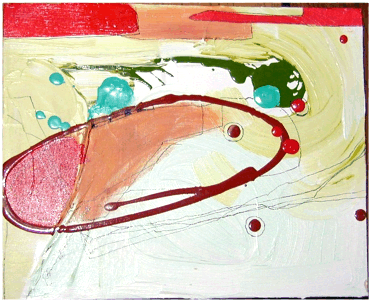 Janna Watson - Upstart Painter
Janna's paintings are full of life, creativity and energy. She is a sensitive soul who will only become more and more popular as people interact with her and her work. I'm privileged that she gifted me with one of her creations.
In the Spring of 1983, the Toronto Healing Arts Centre was founded by Dr. Nicholas Ashfield with the vision of a permanent home for holistic healing that would be warm and relaxed yet professional. Starting with seven treatment rooms and four practitioners, THAC has grown to include 30 office spaces, a classroom, southern Ontario's only sensory deprivation tank and over 60 independent holistic therapists. This is an ideal place to initially establish your practice!.
Reiki Healing Arts: Paul & Susan Mitchell - This couple have a Reiki practice in Idaho. Both were trained by Hawayo Takata and Paul is one of her Reiki Masters. He works extensively with Phyllis Furumoto.
Nanette M. Sebourn - Licensed Marriage and Family Therapist
Nanette cares deeply for each of her clients, which means that she is selective and will only admit those into therapy that she feels she can be of utmost service to. She is qualified to treat individuals with very personal and individual issues that are interfering with their happiness. She is also qualified to treat families with family issues including small children, and she can help couples in their relationships.. She loves helping couples and families avoid the pitfalls that cause divorce. With Nanette, you are not alone. The area that she serves in California includes Temecula, Murrieta, Menifee, Wildomar, Lake Elsinore, Canyon Lake, Perris, Sun City, San Diego, Corona, Fallbrook and Escondido.
Reiki Master Shelley Easthope provides treatment and training on Pender Island and the surrounding areas of Victoria and Vancouver.
Relaxation music, positive affirmations and online counseling for reducing stress and anxiety, promoting health, wellness and healing and improving self esteem.
From Reiki and Japanese Zazen, to QiGong and Chinese martial arts, QiBelly offers treatment programs and preventative health workshops that will help establish consistent routines for your overall well being. Honest and effective, the aim of QiBelly is to help you help yourself. Located in Toronto, Reiki Master Paul Lara is founder and director.
Karen Gordon is a Reiki Master who lives in Eugene, Oregon.
Albuquerque Reiki Treatment & Classes
Elizabeth Valsala (pronounced "vahl-suh-luh") has practiced Reiki for 18 years and has been a full-time Reiki Master since 1991. Her approach is simple and practical, and her classes are relaxing, healing and fun.
A professional organization for Reiki practitioners.
his page is intended to offer a different perspective on the background and practice of original Usui Reiki Ryoho.
Volunteer Petèn is a non-for-profit organization established in San Andrès, Petèn (with a US office in Mohnton, Pennsylvania) whose mission is to aid development in Guatemala by training international volunteers to participate in, design, and implement sustainable projects. Their main projects focus on environmental education, general education, reforestation, forest management, medicinal plants, and working with the public library and public schools, but they are open and able to aid volunteers to develop any project that suits their abilities and goals.
Toronto Community Portal & Directory
The Candida and Yeast Infection Blog
An information blog about Candida cleansing, anti-fungals, and alternative medicine.
Metaphysical Crystal Shop selling Healing Crystals at Discount Prices, including Tumbled Stones, Rocks & Minerals, Amethyst, Rose Quartz, Clear Quartz, Merkaba Crystals, Vogel Wands, & more.
Energy Medicine: Hands on Healing of the Human Energy Field
Janelle Durham's extensive research on hands-on healing. Summarizes 18 different techniques, lists a number of research studies, and gives an excellent overview of the scientific support for energy healing. Includes a bibliography that lists numerous sources for further study. Check out her Transition to Parenthood website as well.
This web site is dedicated to collecting, documenting and publicizing the information about medical effects of Reiki therapy. It is created for educational purposes and is intended to connect Reiki practitioners of different lineages, their patients and physicians through summarizing and providing medical information about Reiki therapy.
The island of Kauai was the gateway for Reiki to come to the western world through the practice of Hawayo Takata. This school continues the original tradition in both treatment and training. Shalandra Abbey is the Reiki Master there.
Web site for Phyllis Furomoto and Paul Mitchell. Includes information on Reiki and schedules for each of them.
The Reiki Alliance is an international community of Reiki Masters of the Usui System of Reiki Healing ­ Usui Shiki Ryoho. They maintain the time-honored form passed through the direct spiritual lineage of Mikao Usui, Chujiro Hayashi, Hawayo Takata, and Phyllis Lei Furumoto. The site has a directory of Reiki Masters.
This site has information about a unique, sacred place in the western North Carolina mountains that is ideal for meditation and healing. This is also where Reiki Master Donna Stetser lives and maintains her practice.
Reiki in Vancouver, Astrid Lee. Site includes info on chakra imbalances, distance healing (Reiki), and the Reiki treatment process, and after care.
Association of Reiki practitioners in the United Kingdom. Contains a tremendous amount of information about both the history of Reiki and current practice.
Home page for six Reiki Masters in northwestern part of the United States. Lot of good information here.
A wonderful book distributed by Wave Length Productions. Tells about a stone that has the power to heal!
Laurelle Shanti Gaia & Michael Arthur Baird are experienced, Master Practitioners and Teachers of a variety of Spiritual Healing Arts. Laurelle & Michael each have over 25 years experience with spiritual healing and subtle energy study & exploration. They offer seminars, retreats, products and classes for beginners to masters.
Reiki, Healing, Massage, Training and Therapy
iSeekHealth.com is a unique health directory with thousands of categories from nutritional supplements to diseases and conditions.
Ashley's Cabins at Chimney Rock, N.C.
With a beautiful view of Hickory Nut Falls, these cabins are an ideal place to stay while visiting Chimney Rock Park, Lake Lure beach, the Bottomless Pools, Bat Cave, and all the other fantastic places in the Hickory Nut Gorge.
BoMi - Bodywork, Massage, Movement & Somatic Therapies Guide
A guide to over 80 body-centered methods of healing and personal growth. Related books, holistic practitioner listing, useful addresses and links.
Directory of Reiki Practitioners/Therapists
A resource list of Reiki trainers, educators, health professionals, therapists and counselors.
ByRegion Network (Healer Pages)
Similar to the Yellow Pages, this series of directories presents profiles and contact information about Healers of the Body, Mind, Spirit and Planet. The Directory is divided by Category and by Region.
The worldwide learning and training center for the Option Process©. For nearly two decades, we have been teaching people to live happier, more self-empowered and more successful lives. Located in Sheffield, MA.
OfSpirit.com - a "holistic magazine and resource" for education, entertainment and empowerment. Find news, articles and business listings on everything from Acupuncture to Zen.
Web's Largest Alternative and Health Directory
Search over 70,000 alternative health and spiritual web sites. Lots of graphics and over 13,000 inspirational quotes.
Discover Health and Wealth (Secrets for Your Success)
Protect your health with simple, safe and effective holistic alternatives. Herbal Products for inner cleansing, non-toxic skin care, PMS-Menopause relief, organic nutrition supplements, stress management. Wealth management resources including debt elimination, prosperity program, and business opportunity in holistic health field.
Mark's other business website
[ Previous 5 Sites | Skip Previous | Previous | Next ]
This RingSurf ReikiOne WebRing Net Ring
owned by Reiki Toronto - Touch that Heals!.
[ Skip Next | Next 5 Sites | Random Site | List Sites ]
43n39, 79w23 43n41, 79w46 43n15, 79w51 44n24, 79w40